Addington Residents' Association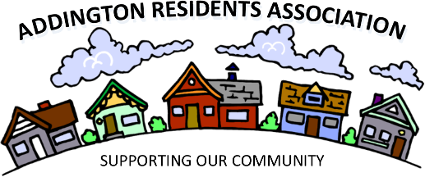 About Us
Chairman: Wiktor Molleskog
Secretary: Mike Bond
Treasurer: Alan Chitty
Magazine Editor - Salli Ransom
To email any member of the committee please click here
Committee Meetings
These are held on the 1st Tuesday of the month (except August) at Addington Methodist Church in Room 5 at 8pm.
All residents are welcome to attend
Hot topics
Notice is hereby given that the AGM will be held on Tuesday 28th May 2019 at 8pm in the Methodist Church Hall, Huntingfield. Please come along, everyone welcome
Pioneer Place
is opposite the golf clubhouse on Featherbed Lane. Since 1987, it has been owned and operated by the Jehovah's Witnesses, who have now decided to close their worship halls and sell the site. The plot comprises various halls, outbuildings in various states of disrepair, a large car park area, and 5 cottages.
The site is on Metropolitan Green Belt land but is currently classified for educational and religious use only. We understand that any new buyer might seek to have this classification changed to permit residential building. Addington Residents' Association wish to prevent inappropriate development within our designated Green Belt area, and we are anxious that Croydon Council are aware of residents' opinions. Do you support us?
We would like to hear your views. Please email addingtonresidents@gmail.com